This free writing prompt generator will help you when stuck on what to write and need something to jump-start the process.
Are you struggling with coming up with things to write? Not enough words on the page?
I'm hoping this free tool can act as a resource for others searching for words to write. Although it can't do everything for you, it might just give you the push you need!
Article writing is not always an easy job to do, but it can become gratifying. It can be absolutely great when the creative juices flow, but when you are pressed for word, not so much.
Although there is debate over whether writer's block exists, everyone gets lost for words from time to time. It is impossible to know what is going on in someone else's thoughts in any case.
If you are stuck, don't worry about it! Get inspired instead. A writing prompt generator will help give you a start and get you on your way!
How to use this writing prompt generator
Click the more button until you see something that inspires you. Then press the copy button to copy it to your book, blog, article, or essay.
This tool is not meant to replace your work but rather to augment your thinking process. There is nothing wrong with looking for inspiration when you write. Shakespeare did it. Dickens did too. Almost every creative writer, artist, comedian, actor, or musician was influenced by someone else.
While some phrases from this tool will be what you are looking for, others may make no sense at all. Take whatever you can use!
No need to let lack of ideas slow you down when you can get inspired at a click of a button. I even used the tool to help me write this page!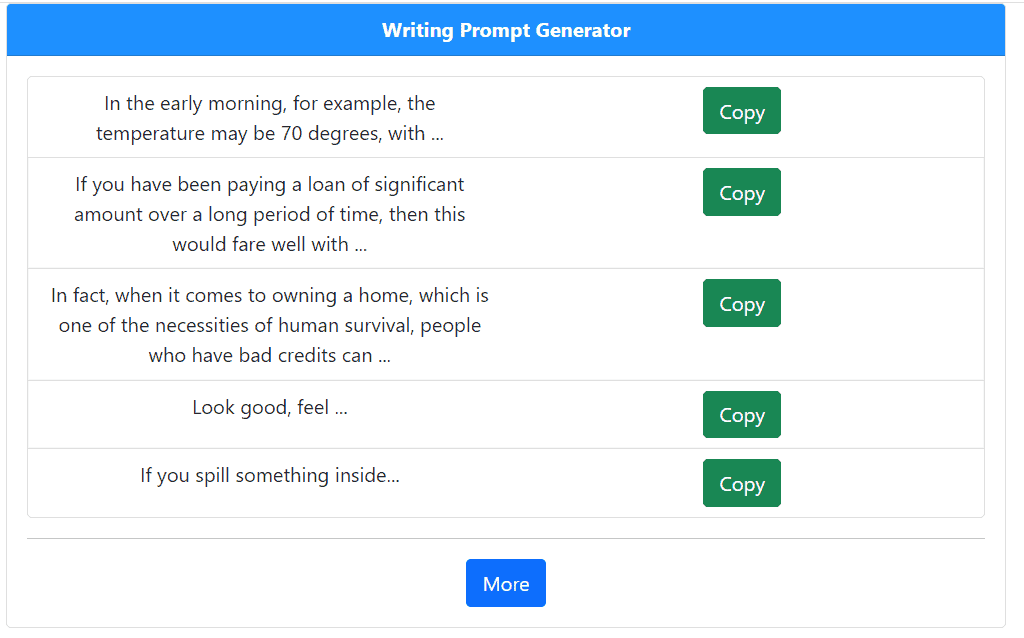 What is a writing prompt?
Writing prompts are shortened sentence fragments that help writers kickstart their writing process, spark the imagination and give a direction for their content. It is hoped the prompt will act as priming of the pump metaphorically speaking. For many people, once the words invoke a thought, the words will tend to flow unaided for a time. If they dry up, just use the writing prompt generator to get a new path for your work.
Then she lifted her pen, and turned and turned it, as if not sure what to write next…

Sarah Waters – fingersmith
How does it work?
The writing prompt generator pulls 5 random sentences from our database of 1 million sentences. The sentence is then converted into a prompt by splitting the words into sections by looking for special words.
You are not likely to see the same 2 prompts because of the vast number of sentences. All of the prompts are sourced from non-fiction writings.
Can I search the prompts by topic?
No, this tool randomly pulls prompts without a subject keyword; however, our SubjectScribe writing tool does have this functionality. It also offers a lot of suggestions by topic, templates, and outlines.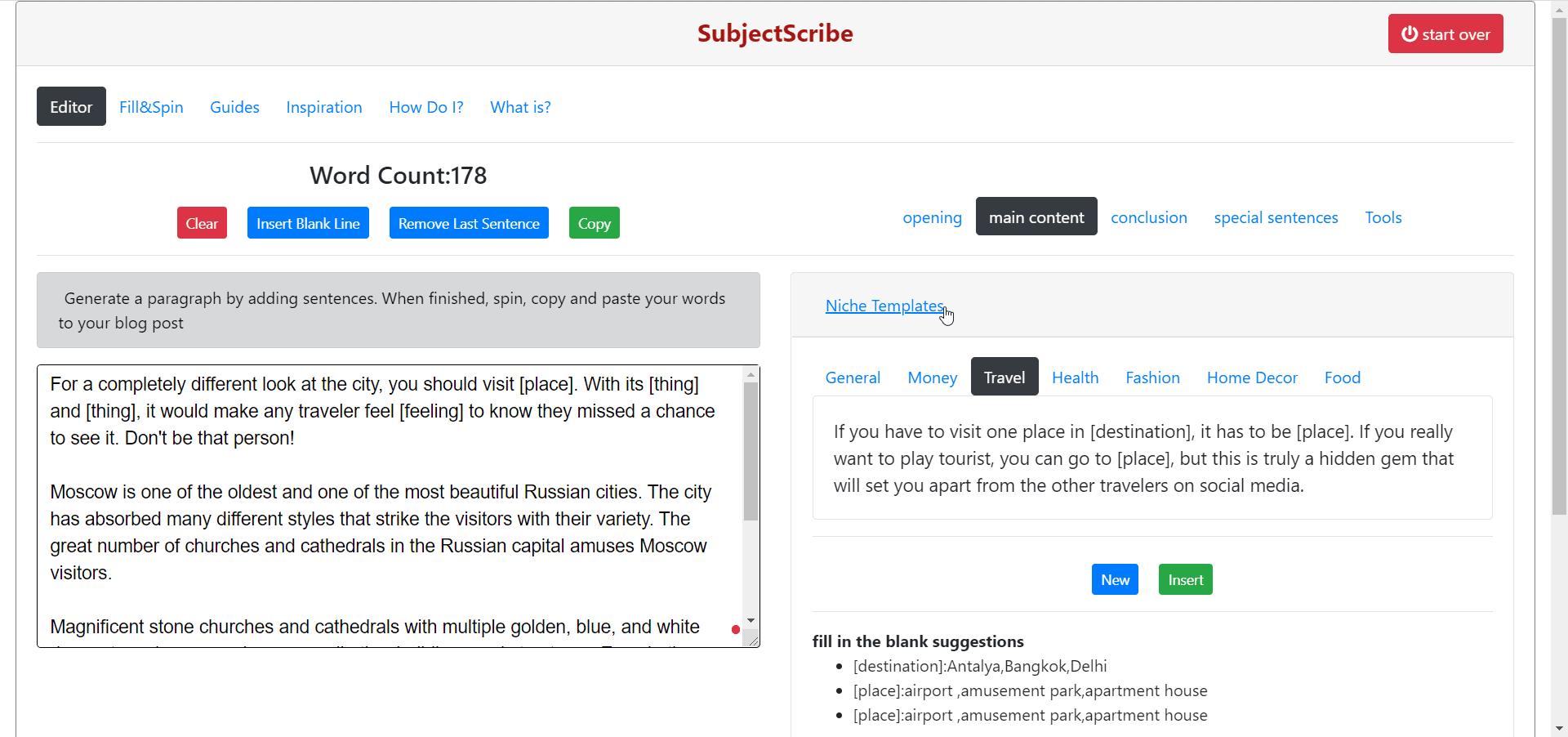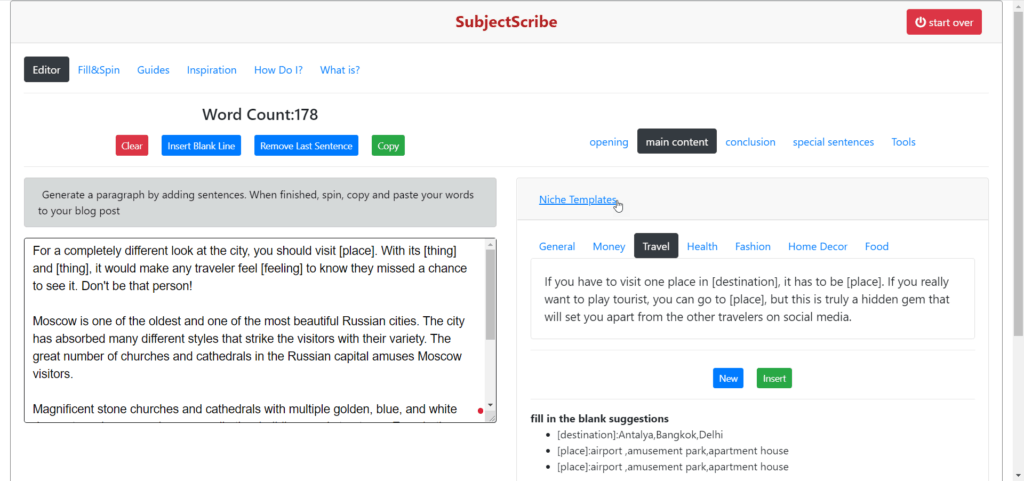 Examples
Look good, feel …
However if your credit history is …
Of course that doesn't mean you can …
Nowadays, there's a more modern,…
If you are …
Just because one insurance rate is …
You'll also need …
While this approach will not necessarily reduce closing costs, homeowners are …
Well now comes the tougher part, which is …
In that case, we looked …
The best thing to do is …
Will the website appear …
All it takes is …
Conclusion
So no matter if you are writing the next great American novel, movie script, blog post, or e-book, I hope that this writing prompt generator will help you get you to where you want to be. So quit procrastinating and get writing, and the best of luck in your writing endeavors!