Having an online shop is a lot of work, isn't it? If you are like me, then you probably struggle with writing product descriptions. It can be so time-consuming, or expensive! Especially if you have a lot of products. That's why I came up with this online product description generator!  While you may use the descriptions as they are, I highly recommend you use the generator as a creative tool to help you build your own descriptions. See below for some tips on using this tool effectively.
Free 3-day trial!
How Do I use it?
3 Easy Steps

3.Copy and Paste the description to your store!
What do the descriptions look like?
I'm glad you asked! Here is a sample below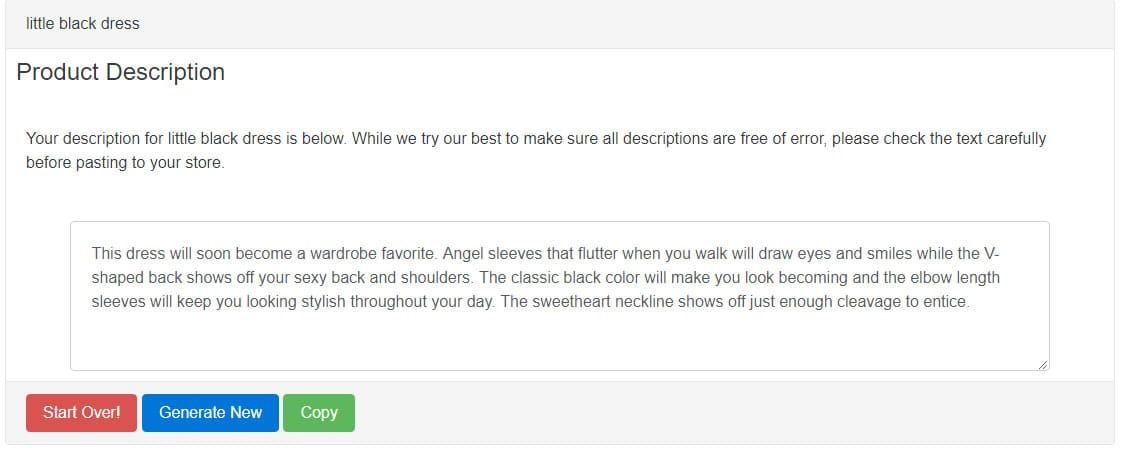 Want more samples? Click Here!
Is this product description generator for Shopify or WooCommerce?
Because you can copy your description, this will work anywhere you can paste text. So if you are using Shopify, WooCommerce, WordPress, BigCommerce or any of the other fine platforms out there, you can use this tool.
What if you don't have my category?
If you don't see your category on the list,  you can suggest a cateory, and I'll do my best to add it.
Tips for using the online product description generator
Make it unique!
While no online product description generator for e-commerce is perfect, using one as a tool rather than a replacement for human writers can save you time and money. This will give you a general framework for each product, and then you can add some additional special unique details about the item. This is similar to some of the tools writers use such as a random first line generator for stories.
Change some words to fit the product better!
I use a thesaurus plugin to be able to change around words to make the description sound better. I'm using chrome, but there are plenty of these writing tools for every browser and device.
For example, if I see beautiful twice in a description I may want to change it to fine-looking, exquisite, or beauteous. What I did here was to copy and paste the word beautiful 3 times and right clicked to use the plugin to quickly change it!
Make sure all is correct!
While I try to ensure all the descriptions are correct, I'm using code to put together a lot of words, so sometimes gremlins sneak in and put things where they should not. I also want to make sure the extra stuff I'm adding is correct. So when I'm writing web content, blog post or product descriptions I always use the free version of Grammarly. It has stopped me from making a lot of embarrassing mistakes.
I hope that you find this tool helpful and I wish you all the possible success in your online endeavors.
William Clarkson

Notices & Updates