While most of us want to write blog posts quickly, readers demand good quality snackable content. Are you grinding under the weight of turning out your blog posts? Do you want to write quickly but without having to sacrifice the standard, your readers expect? That's the rationale behind the Blog Post Generator. Here are some tips and tricks on how to speed up your writing. Some cover our software, but there are stand-alone techniques you can also use.
Pick a subject that flows
Your ability to write is only as good as your knowledge about the subject. But you don't need to be an expert.
Most people won't write unless they know about a lot about a subject. I feel that if you know enough to effectively teach it to someone else, you can write about it. Blogging is communication, pure and simple.
It should still be something you are familiar with that the words can flow smoothly. My rule of thumb is that if you can talk to a friend helpfully about it for 10 minutes with ease, you can blog about it.
Research
When I want to start a new post, unless it is something I already know a lot about , I always do a little research first. Getting things in the front of your mind is a great way to help make sure you are in the right frame of mind to write on your subject. This leads to being able to just stream the ideas from your head to the page.
Generate a Headline
A stunning headline is a great way to get people to read it. Some say it is the most important part of a blog post. After all, if no one clicks on it no one will read it.
Use the heading tab to find ideas for your headline. Don't be afraid to change words or mix it up a bit.
A little tip I recently learned was that if you are going to use numbers, in your headline such as:
 [number] Money Tips That Will Improve Your Life
be sure to use odd numbers (9,11,13)because these feel imperfect and therefore more precise.
Headline Examples
17 Money Hacks You Won't Want To Forget
How to Start a Vegan Diet The Right Way!
9 resources for your first trip to Thailand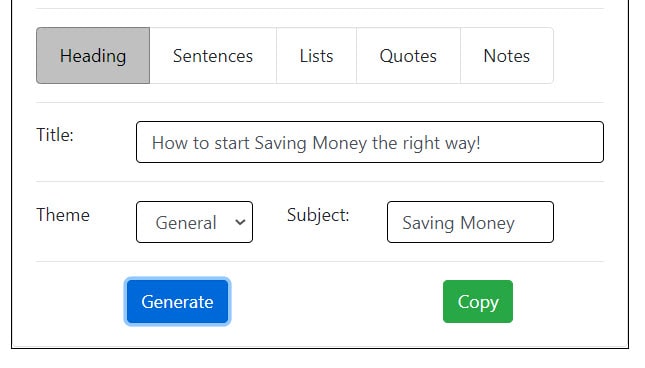 Outline
I don't know if you outline your post before writing like I do, but if you have, then you know what a great time saver and organizational technique it can be. By putting in the subheadings, it creates a roadmap from our introduction to the conclusion.
It will also help you focus solely on one aspect of your subject at a time.
Decide a section word count
Another thing that helps me a lot is to decide a word count target for a section. For most blog post I try to write about 100 words per subheading. Some sections will have more and others less, but it help me to have that number I'm trying to reach.
So, for example if you have a post with the title "10 things never to say to a woman", that would be 12 sections if you include a introduction and a conclusion.
That works out to about 1200 words.
While overall word count won't affect your SEO scores, an article that is too short might not have enough information to be relevant.
Fill in the blank sentences
This is the best feature of the Blog Post Article writer because it provides the text of the blog post.
Many times when I'm writing I don't know where to start. Once I get started I get stuck often.
Does this happen to you as well?

Imagine you are sitting in a restaurant. What makes it easier to order? To try to think of some food that might be in the kitchen, or to look at a menu?
The sentence templates give you a random fill-in-the-blank sentence. If the sentence gives you an idea, that fits in with what you want to say, use it! If not, hit the button until you find something that gets you unstuck. I don't usually have to go through more than 10 sentences to find something that will keep me going.
When we look at choices, we get inspired and the suggestions cause us to formulate thoughts. This is true for the menu at your favorite spot to eat, and it is true for writing as well.
Here are some samples:
Another way to [result] is to [action]
At a minimum, [subject] needs to have [things]
Before [action], you are going to want to [grasp,understand,know,find out] why the [action] is so [adjective]
Just fill in the blanks with your words
Another way to save money is to plan a budget.
At a minimum, a sales blog post needs to have a heading, content, and a call to action.
Before taking the course , you are going to want to understand why the research is so vital to the success of the project.
Special Sentence Categories
There are some special sentence categories that may fit the type of post you are writing. While these are great for specific subjects, you'll want to go back to the general section often for most of the content. This is simply because since they will fit most topics, there are a lot more in that category.
Add Quotes
Another outstanding way to add content to your blog post is to include a quote, either at the start of your post or after a relative paragraph. This helps to add authority to your content. One of my favorite things to add to a blog post is a quote because as Jonathan Safran Foer once said "Words are capable of making the experience more vivid, and also of organizing it. They can scare us, and they can comfort us." (See what I did there?)
This software may not be a magic bullet but it will help you write blog posts quickly. It is helping me turn out some content faster, with much better quality than automation. I hope that you find these tips helpful!