I created this Faq Generator to help you quickly build a framework for a frequently asked questions page.
Frequently asked question pages bring about a way for your customers to quickly lookup answers to the questions that they may have about your website. It also answers questions that your customer has not yet thought of and can be a clever way to suggest information you want them to know. This technique is not seen as pushy as the customer is seeking out answers themselves.
This FAQ generator doesn't provide the answers, but it will give you a choice of common frequently asked questions to help get you started.
You can make either a questions and answers page for an e-commerce shop or for an online service, such as graphic design.
The app will output text you can copy and paste to your page.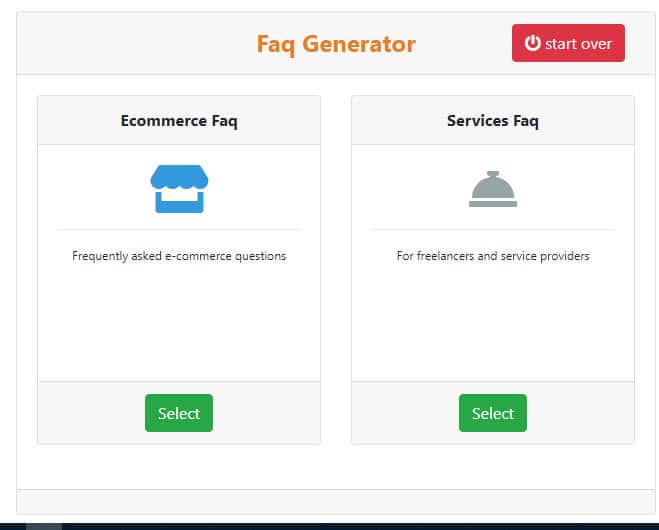 Do I need a FAQ Page?
You may think you can do without a frequently asked question page, and perhaps you can. But there are many reasons to build a faq page.
They are useful
Frequently asked questions pages are usually put up on a website in order to reduce the number of support tickets that queries would otherwise generate. They provide a quick and easy way for users to get the answers to their questions.
With these FAQs, customers can quickly find an answer without having to contact customer service; this saves both time and money for the company. They're also useful as a point of reference for customers, providing answers to many questions they might have about your company or product.
Quick to build
Because you already have the answers, you just need to know what questions your customers will be asking. That's where our tool comes in. With the faq generator, you can have your page up in an hour or two.
Saves you and your customer time
FAQ pages save time for both customers and site owners. Because you provide both the questions and the answers you can direct the conversation. The dialog can help sell the service or product by overcoming objections in an imaginary conversation.
They make sales
A question page can help you make sales because it can override objections. By creating a faq page for your products and services, you will be able to address questions that potential customers may have about your product or service before they even buy it.
The help with SEO
Linking your content to pages on your site is a vital part of SEO. Linking to relevant pages will help your content rank in search engines. A faq page is a great place to start when creating links.
Why you really need a faq page
A FAQ page is a great way to give customers insight into your business. It can help potential customers know more about your company and what you offer. A FAQ page also lets customers ask any questions that they may have, without fear of scaring away potential customers.
More and more people are turning to FAQ pages to answer their questions. These pages can help you save time by not having to answer the same old questions over and over again.
This Faq Generator can help you put together a nice professional faq page in minutes!
Faq Generator Sample
Here is a sample with just a few questions added.
Here are some of the questions customers of Acme want to know.
If you have a question not on this list, please contact us [link here]
General Questions
How do I contact you?
Can I change my order?
Do you have physical stores?
Shipping Questions
What are the shipping options?
Do you ship internationally?
When will my order ship?
Payment Questions
What payment methods do you accept?
How do I use PayPal to pay?
Do you accept stripe?
Return Questions
What is your return policy?
Are returns free?
How do I complete an Online Returns Request form?
This is just a sample of what the faq generator can do. For a page tailored to fit your site, just click the button below to get started!